Editor for very large files - free - Kainet Editor




Version 1.0.12
Windows Portable App


This product is freeware. You may use the software without any charge.


Kainet Editor is a simple and fast text editor, designed to handle files of any size, such as web server log files or raw data. It comes with basic editing features:


Opens very large files (up to several 100GB) instantly
Supports UTF-16, UTF-8 and various 8-bit encodings
Search and replace, with highlighting
Goto function: absolute file position, KB, MB, %
Undo and redo of several hundred steps

This editor is provided as portable app. So you just can copy the executable to any location, for example a USB stick, and run it. It requires Windows 7 or higher and the .NET framework 4.6.

The software is virus checked and signed.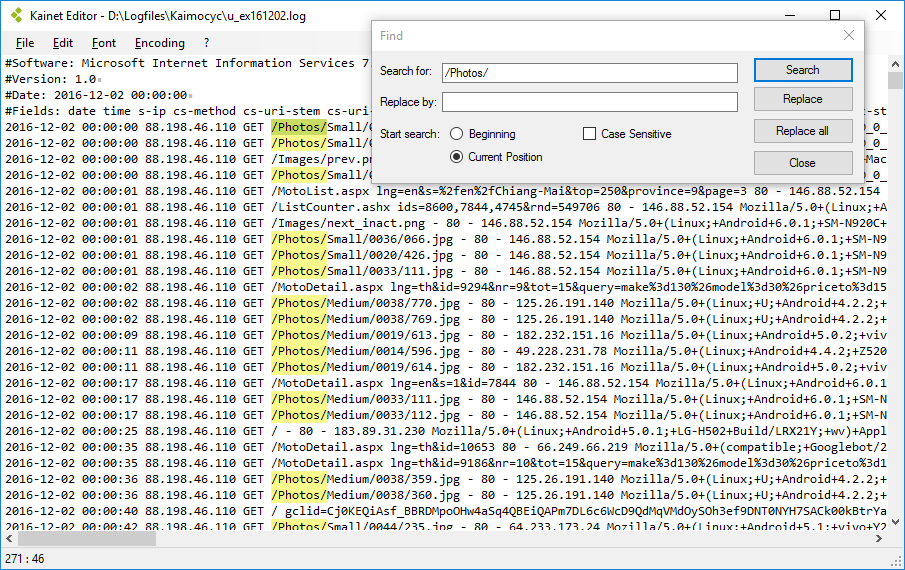 Requirements
Kainet Editor runs without installation. Just start it from a USB stick or copy the executable to any location on your sytstem. The computer must meet the following riquirements:
Windows 7 or newer
.NET framework 4.6 installed
Licensing
Kainet Editor is freeware. You may use the Software without charge. You may freely distribute exact copies of the Software to anyone.
Anyway, you may not reverse engineer, disassemble, modify, adapt, rent, lease, sell, request donations or create deriative works based upon the software or any part thereof.
Please read the full license agreement for more details.